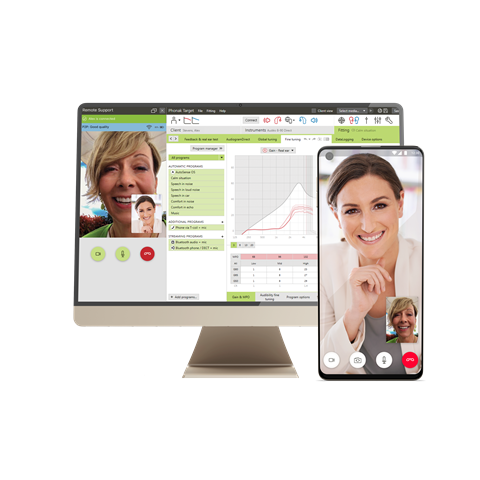 Getting started with Remote Support:
Please make sure you have the following:
laptop/desktop with microphone and camera access
PhonakPro account with appropriate permissions (contact your local Phonak provider if you are unsure)
Latest version of Phonak Target
Good internet connection – speed test within Target*
*Before starting Remote Support for the first time, we recommend you to do the following tests within Phonak Target: "Test internet connection" and "Test remote support connection" to make sure that you are ready to use Remote Support

Instruction for use

User Guide: myPhonak app
To view the instructions for use, you must have Adobe Acrobat Reader installed. Visit Adobe.com to download. To obtain a free paper copy of the instructions for use, please contact your local manufacturer representative. A copy will be sent within 7 days.
How to's

Video: How to conduct Audiogram Direct with Remote Support

Video: How to prepare for Remote Support & Hearing Diary

Video: How to start a remote support session
FAQs

Web Link: Video/ sound quality is bad during a Remote Support session

Guide: Troubleshooting & FAQs –Remote Support

Guide: AudiogramDirect with Phonak Remote Support

Guide: FAQs - Audiogram Direct

Technical Paper: Fast Facts: Optimizing high frequency gain during Phonak Remote Support
Other downloads

Untagged PDF: PH_Configuration_firewall_Remote_Support_EN_09_22
new

Technical Paper: Phonak Insight: Taking theory to practice: Integrating Phonak eAudiology into clinical practice
Drexler, J. 2019