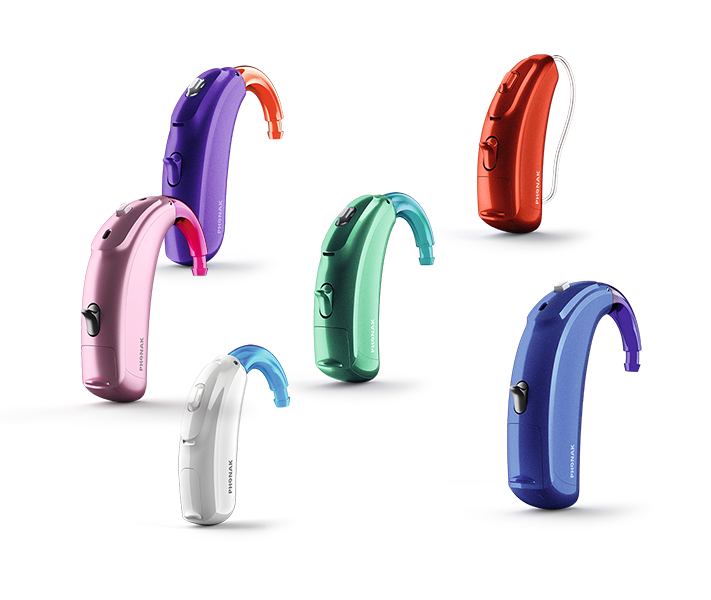 Are Sky B hearing aids waterproof?
No, Sky B hearing aids are not waterproof. All Sky B models are water-resistant according to IP68 rating.
Are all Sky B models tamperproof?
Tamperproof battery doors and earhooks are available for all traditional BTE models (M, P, SP, UP) of the Sky B portfolio. Tamperproof versions of the design-integrated Roger 18 and 19 receivers are also available. For Sky B-PR rechargeable BTE, there is a tamperproof ear hook and as there is no battery compartment to open, no need for other tamperproofing. The tamperproof battery door is also compatible with the Sky B-RIC, however please note that receiver in canal devices are not recommended for children of the age below 8 years.
I would like to order a hearing aid with a specific hook color, how do I proceed?
Phonak Sky B comes in 14 housing colors and 7 hook colors that can be changed to suit your client's preference. The signature colors will ship with specific hook colors as mentioned below. All other housing colors are shipped with a transparent hook. If you need a different hook color with your shipment, please let Customer Service know when placing the order.
Default hook colors:
Electric Green with Green hook
Caribbean Pirate with Yellow hook
Vanity Pink with Pink hook
Alpine White with Blue hook
Blue Ocean with Purple hook
Majesty Purple with Orange hook
All other housing colors come with atransparent hook.
All housing and hook colors can be mixed and matched to your client's needs.
Which Roger receivers are compatible with Sky B hearing aids?
Sky B-P, SP, UP, RIC have direct audio input and hence are compatible with a design-integrated Roger receiver:
Sky B-P, SP, RIC = Roger 18
Sky B-UP = Roger 19

Roger X via Audio Shoe (AS18 and AS19) can also be used with these four form factors.
Roger X via Phonak ComPilot II, Roger MyLink can be used with all six form factors of the Sky B portfolio, including the new Sky B-PR.
What happens to the battery life of Sky B-PR when using Roger?
Below are the approximate streaming times for Sky B-PR when using the Roger X with the ComPliot II:
80 minutes = 24 hours of total battery use
5 hrs streaming = 20 hours of total battery use
10 hrs streaming = 16 hours of total battery use
The same timeframes apply when using Sky B-PR with other wireless accessories
What other accessories are compatible with the Sky B hearing aids?
Phonak DECT II Home Phone, Phonak PilotOne II, EasyCall II, Phonak ComPilot II, Phonak ComPilot Air II, Phonak TVLInk II, Phonak RemoteMic
Is Sky B compatible with CROS?
All Sky B models with Zinc-Air batteries are compatible with Phonak CROS B. However, Phonak CROS B is not recommended for toddlers between 0-3 years old.
Can I use the Power Slim Tube with my pediatric patients?
Use of the Power Slim Tube is recommended on pediatric patients 9 years old or older. The user needs to be able to handle something a bit more delicate. Note that it has to be fit with a custom ear mold because it is used for power fittings.
Which receivers are compatible with the Sky B-RIC form factor?
Sky B-RIC can be fit with three different external receivers:
Standard receiver xS: for mild to moderately-severe hearing loss
Power receiver xP: for mild to severe hearing loss
UltraPower receiver xUP: for moderate to profound hearing loss

Phonak recommends receiver-in-canal hearing aids for children of age 8 years and older.