Phonak Audéo™ Lumity
Conversations shine with Lumity
Experience the evolution of speech understanding
Hearing can be challenging in different situations. Market research (MarkeTrak IX) shows that hearing aid adopters report social benefits of hearing aid use, such as better ability to engage in group activities and positive impact on relationships.2
Audéo Lumity with unique Phonak SmartSpeech™ Technology improves speech understanding and allows for easier conversations in a variety of sound environments.1

Partner with Phonak for success
Choose Phonak support services to future-proof your business growth.
Capture more leads with Lumity lead generation marketing toolkit
Receive tailored learning to develop you and your team for future success
Receive expert business insights and best practice benchmarks


Learn more from your Phonak representantive or become a provider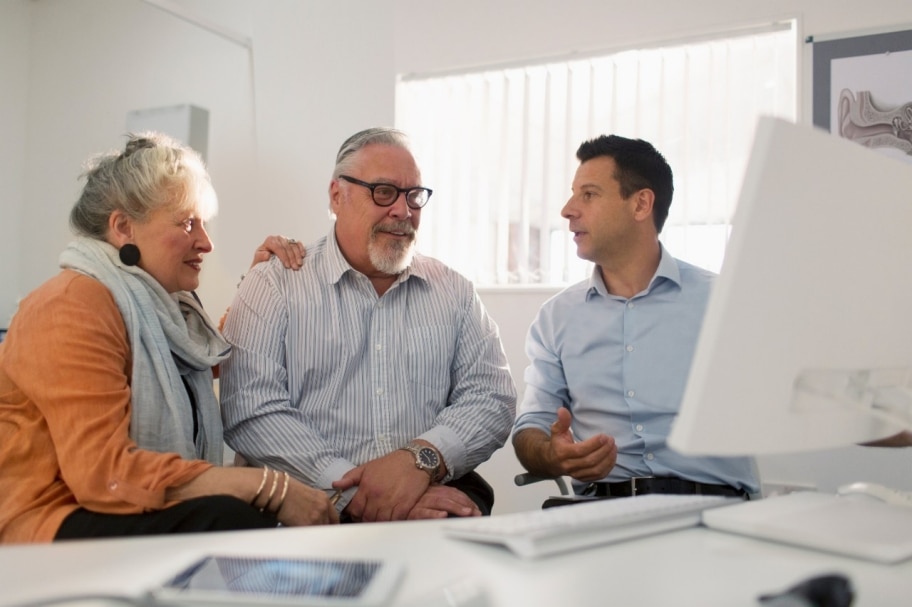 Optimize clients' experience
You can leverage digital services to optimize your clients' experience with their Lumity hearing aids.
Universal connectivity: Convenient universal connectivity to a multitude of Bluetooth® enabled devices
Health benefits: myPhonak app offers all-new health tracking features, such as tracking steps, activity levels, distance walked or ran, and wearing time
Remote care: Personalize their hearing experience with telehealth opportunities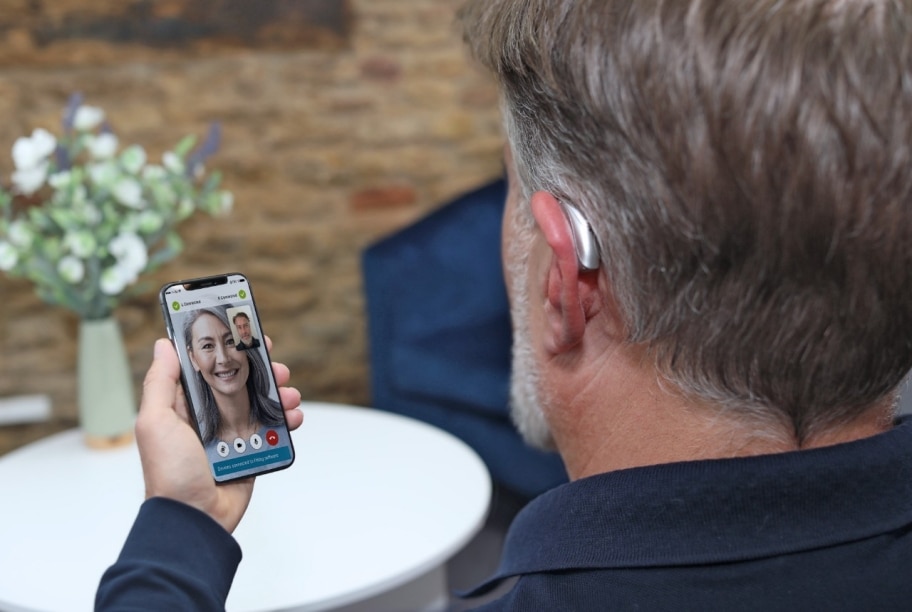 Precise detection of speech from any direction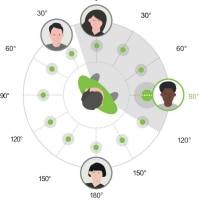 With SpeechSensor, clients are able to hear more from back and sides with this automatic feature.

 
Improve focus in noise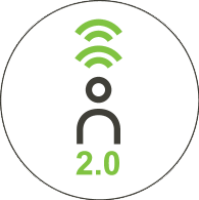 StereoZoom 2.0 gives clients more focus to speech from the front in challenging listening environments.
 
Reduced listening effort

 

Adaptive Phonak Digital (APD) 2.0 leads to reduced listening effort in noise for those with mild to severe hearing loss.3*
 
AI based, machine learning automatic
 

AutoSense OS™ 5.0 accurately identifies the sound environment create over 200 unique setting combinations to replace the sound environment.
Phonak Audéo Life™ Lumity
The second generation of the world's first waterproof** rechargeable hearing aid is capable of being submerged in up to ½ a meter of fresh, pool or salt water.
It's the ideal solution for clients who want to understand speech better1 in physically demanding environments or those looking for a hearing aid that will withstand strenuous activity.
The first fully rechargeable product range from Phonak – The future is ON
Rechargeable hearing aids are better for you, your client and the environment. Phonak Lumity features these charging options.
Phonak Charger Ease
Charges Audéo L-R and RT hearing aids in just three hours so clients can enjoy a full day of hearing.
Phonak Charger Case Go™
Exclusively designed for  Audéo Life.  It can fully charge the hearing aids up to 3 times on a single charge and is easy to use on the go.
Phonak Life Charger™
Exclusively designed for Audéo Life; an inductive charger without a built-in battery.
myPhonak app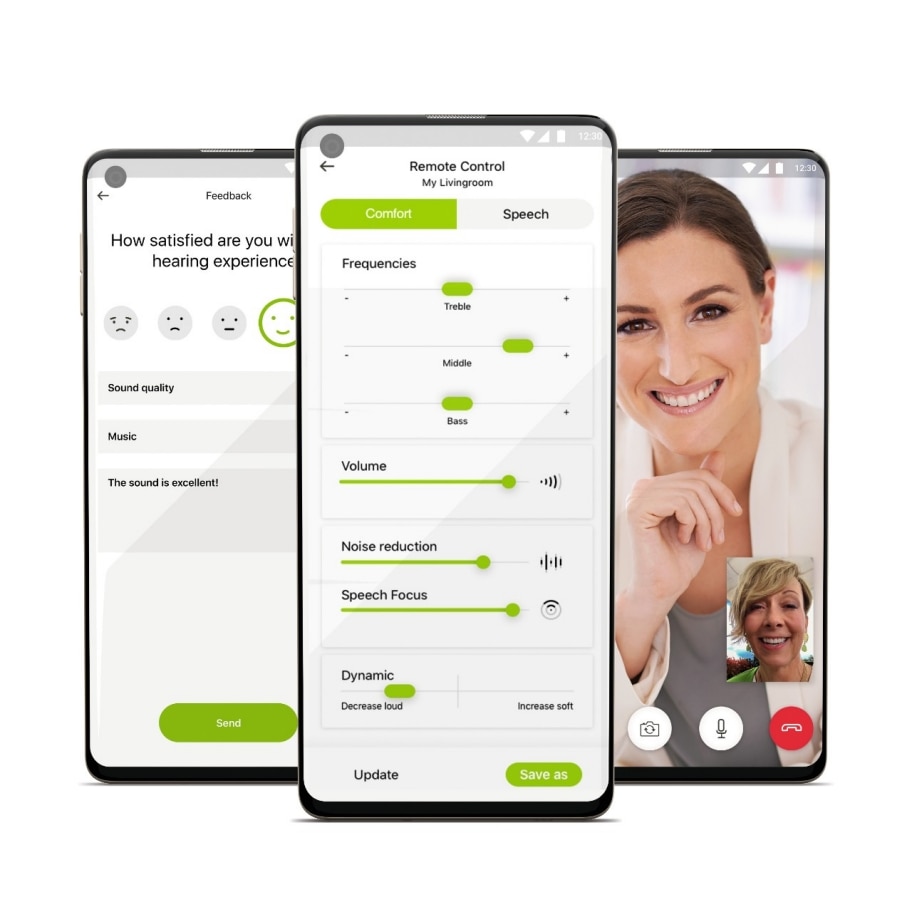 Clients can personalize their hearing experience and fine-tune their hearing aids with the advanced Remote Control function and more.
Phonak Well-Hearing is Well-Being™
We believe that well-hearing equates to well-being and is essential to living life to the fullest. Our innovative hearing solutions are designed for people of all ages and all degrees of hearing loss to connect socially and thrive mentally and socially.
Footnotes
*compared to Phonak Marvel
** up to 50 cm

1. Appleton, J. (2020) AutoSense OS 4.0 - significantly less listening effort and preferred for speech intelligibility. Phonak Field Study News retrieved from www.phonakpro.com/evidence, accessed August, 2022.
Latzel, M. & Hobi, S. (2022) ActiveVent™ Receiver provides benefit of open and closed acoustics for better speech understanding in noise and naturalness of own voice perception. Phonak Field Study News retrieved from www.phonakpro.com/evidence, accessed August 2022.
Thibodeau L.M. (2020) Benefits in Speech Recognition in Noise with Remote Wireless Microphones in Group Settings. Journal of the American Academy of Audiology, 31(6), 404–411.
Woodward,J and Latzel, M (2022) New implementation of directional beamforming configurations show improved speech understanding and reduced listening effort.Phonak Field Study News in preparation. Expected end of 2022.

2.Abrams, H.B., & Kihm, J. (2015). An Introduction to MarkeTrak IX: A New Baseline for the Hearing Aid Market. Hearing Review, 22(6), 16. Retrieved from https://www.hearingreview.com/2015/05/introduction-marketrak-ix-new-baseline-hearing-aid-market/ on March 25, 2021
3. Wright, A. (2020). Adaptive Phonak Digital 2.0: Next-level fitting formula with adaptive compression for reduced listening effort. Phonak Field Study News, retrieved from www.phonakpro.com/evidence, accessed October 18th 2021.

The Bluetooth® word mark and logos are registered trademarks owned by Bluetooth SIG, Inc., and any use of such marks by Sonova AG is under license